Connecticut Trails Day 2011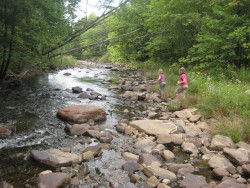 Get Back to Nature with Organized Hikes and Walks
Connecticut Trails Day is usually the first weekend on June. There were 193 events across the state in 2011; these can be found at the Connecticut Forest & Parks Association CT Trails Day website.
Hiking with kids is different from hiking with adults. Check out our article "Tips to Remember When Hiking with Kids"—written by a real-live 9-year-old.
The Great Park Pursuit
The Connecticut Trails Day is also Family Hiking Day for those participating in the Great Park Pursuit Outdoor Recreation Challenge.
Family-Friendly Hikes for CT Trails Day 2011--June 4th and 5th