December Holiday Fun List for Fairfield County Families
As soon as the cold weather arrives, our thoughts naturally turn to the holiday season! We prepare for it for weeks if not months. Here is your master guide to the holidays!
The following organizations providing holiday activities have elected to be featured on this page:
Santa's Railyard at the Danbury Railway Museum
Danbury, CT

Location and Hours

Ride a vintage train to Santa's toyland! Saturday Dec 10 & 17; Sunday Dec 4, 11, & 18. Admission: $9.00 age 2 and over (under 2 is free). Trains leave every half hour between 12:30 & 3:30. Includes: Train ride, free gift for children, visit with Santa in Toyland, exhibits in restored 1903 station, and more.

---

FREE holiday events in southwestern CT
You think you can't get anything free anymore? Nonsense! Here are a bunch of free holiday events coming up in our area.
---

Christmas Tree Farms
Do you cut your own Christmas tree? Here's our big list of farms where you can cut your own Christmas tree in our area.
---

Chanukah
Hanukkah begins at sunset on Tuesday, December 20, 2011, and ends at sunset on Wednesday, December 28, 2011. Click here for upcoming Chanukah activities!
---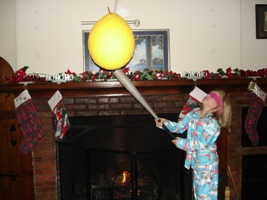 Lightbulb Day
Lightbulb Day is celebrated on the Winter Solstice, on or about December 21. Click here to find out what it is!
---

Kwanzaa
Kwanzaa is celebrated December 26-January 1 each year. Click here for upcoming Kwaanza activities!
---

Christmas
We have subdivided this list into categories below, but to see one easy list of ALL upcoming Christmas activities, click here!
---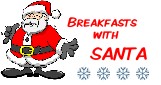 Breakfast with Santa
There are lots of Breakfasts with Santa (and sometimes, Breakfast with the Grinch!). Get your tickets early, because these tend to sell out. Click here for Holiday Breakfasts.
---
Holiday concerts, shows, and other performances
There are lots of special concerts and shows... and some of them are free! Click here for the entire Holiday Performance list.

---
*************