Disney's The Little Mermaid, a musical: a KidsOutAndAbout Review
Disney's The Little Mermaid, a musical: a KidsOutAndAbout review
by Diana Palmentiero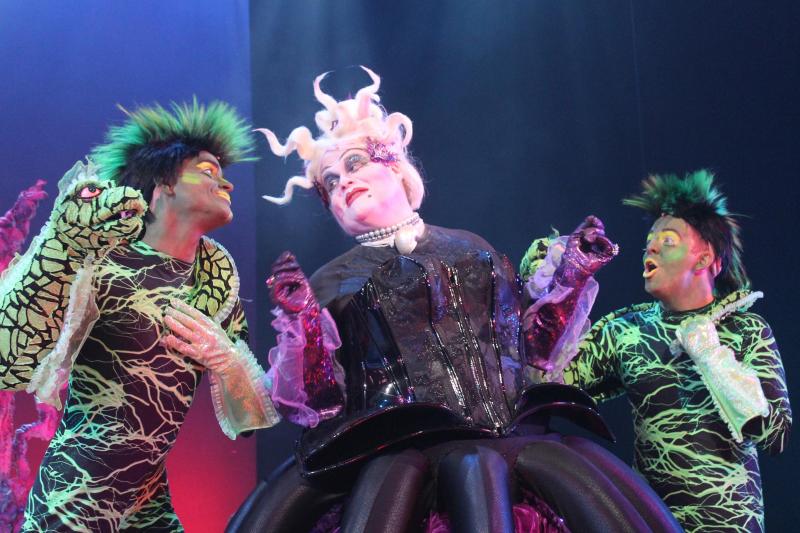 Disney's The Little Mermaid is onstage at the White Plains Performing Arts Center through January 4, 2015.  Performances take place at 2pm with an additional 7pm showing on Saturday, January 3rd. Tickets can be purchased here.
The play is based on the Disney movie, The Little Mermaid, which was released in 1989. But did you know that the Disney movie was adapted from an 1837 fairy tale by the famous children's author, Hans Christian Andersen? Disney's animated film won two Oscars for its musical score and best song, two Golden Globe awards, and a Grammy.  With big shoes to fill, my family attended the current production at the White Plains Performing Arts Center to see if the stage production could live up to the classic film.
The Little Mermaid is the story of Ariel, a mermaid and the youngest daughter of King Triton, king of the seas, who has a strong fascination for all things human. After she rescues Prince Eric when a storm tosses him off his ship, Ariel falls in love with him.  Now she wants more than ever to be a human.  Later, she makes a deal with her aunt, Ursula, the sea witch, to become human in exchange for her beautiful voice.  She has three days to make Eric fall in love with her and kiss her. Not such an easy thing to do when you don't have a voice.
Why see the stage show if I've already seen the movie?
Director Francesca Zambello explains, "That's the challenge when you (adapt) an animated feature. You want to think, 'how can I make it, not better, but make its theatrical life unique?' Which is why you bring on board all your collaborators, your designers, choreographer, musicians, all working to answer this question: 'How will we make it unique for the stage?'" I loved that this production was not just the movie on stage. Their toughest job was working with the setting. It's worth a trip to the show just to marvel at the ingenuity behind costumes created to turn humans into swimming sea creatures.
Also, the play offers new backstory: how Ariel's mom passed away, how Ursula is related to Triton, and more. Don't worry: the classic songs from the movie are still included in the theatrical version ("Under the Sea", "Kiss the Girl", "Part of Your World") but there are some new favorites to enjoy as well ("Sweet Child", "If Only", "I Want the Good Times Back").
Though Jodi Benson, the original voice of Ariel, has been named an official Disney Legend, the theatrical production offers an opportunity to fall in love with favorite characters all over again. Due to excellent casting, my kids enjoyed a musical scene with Ariel's six sisters who also played the parts of the sea creatures. Ariel was, of course, a favorite with the kids while my husband and I loved Scuttle's comic antics. We really believed he was a bird!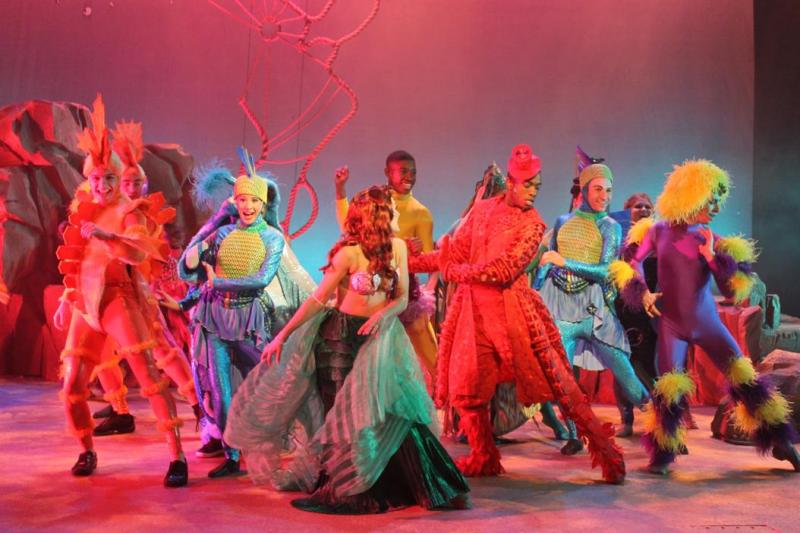 Who will enjoy the show most?
This was a very family-friendly play with humor for both kids and adults alike. Because the musical is based on the Broadway original, it is 2 hours long with a 15 minute intermission. If you don't think your kids will sit still for that long, this play may not be for you. Best not to bring infants - we heard a few crying during the performance. After the play, the entire cast was in the lobby taking pictures and signing autographs.  
What I loved about this performance was that we were able to see a Broadway quality show (by the way, the seats were so comfortable) in nearby Westchester County. Parking was easy and didn't cost a fortune ($8 for 8 hours!) And with kids, you don't want to spend a fortune on tickets if they aren't going to appreciate it. 
I hope that White Plains Performing Arts Center continues to offer these family friendly shows. I'd love to take the kids again and again.  It was totally worth the trip!  Here's the link for tickets, which are between $25 - $55.
My kids are older. I don't think they'd be interested in a "kiddie" play. Will they like this production?
Want to make more of the experience for your kids? Explore the mysterious fathoms below the surface of a simple fairy tale. Check out the Study Guide to the show prepared by Disney's Theatrical Productions Education Department.
Our favorite activities from the guide:
-Read about the origins of the myth of mermaids. The Kraken, sirens – make connections to Homer's epic poem, The Odyssey.
-Compare a ship to a theater. For example, there are special names to indicate sides of the ship just as there are names for locations on the stage.
-Mermaids are part human, part sea creature. What characteristics of humans and animals would you combine to create a new being? Draw it, write about it, act it out!
-Scuttle pretends to know the uses for different humans objects (a pipe is a music-making "snarfblatt"). Pick everyday objects around the house and make up new uses for them.
-Ariel collects all of her human treasures in an underwater cave. What modern objects would you choose to save in a time capsule to represent this era? What do artifacts reveal about a culture?
Disney's The Little Mermaid works on many levels. Younger kids will be hooked on the catchy tunes and a curious young princess; older kids can dig deeper to discover dynamic characters with complex motives and opportunities to research mythological beings as well as real sea creatures.
---
© 2014, KidsOutAndAbout.com
Diana Palmentiero is editor of KidsOutAndAbout.com for Fairfield County, CT area.