KidsOutAndAbout.com Reviews Robin Hood Springtime Festival at the North Haven Fairgrounds
by Diana Palmentiero
The Robin Hood Springtime Festival is at the North Haven Fairgrounds for three weekends,  May 23 – May 25, 2015, May 30 – May 31, 2015 and June 6 - June 7, 2015.  My family and I went the day it opened at 11 a.m. and spent the whole day there!  The kids loved it! Here's my daughter with the star of the Festival, Robin Hood himself.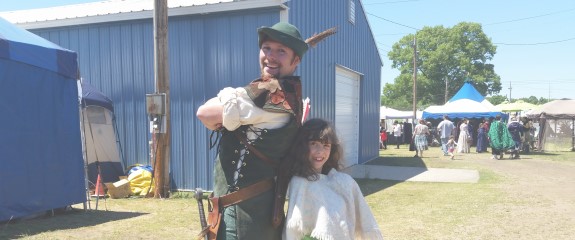 It was a beautiful day and a short ride, after getting off the Merritt Parkway at Exit 63.  If you decide to attend one of the following weekends, check here for some special, themed weekends that are happening.  The first weekend was Pet Weekend so many people brought their dogs. One gentleman even brought his cat, who was the most docile cat I had ever seen. 
In case you are wondering, the Festival is really a Renaissance Festival.  Have you ever been to the one at Sterling Forest, in Tuxedo, NY?  Well, this is a miniature version of that one.  It's a lot less bawdy.  The actors are fully aware of children in the audiences.  They will let you know whether a show is "R" rated, so that you can take the kids elsewhere.  There are, of course, shows that are appropriate for children. And of course, there was a show about Robin Hood which was shown in 5 parts! We saw the beginning and the end because there were so many other things to see and do.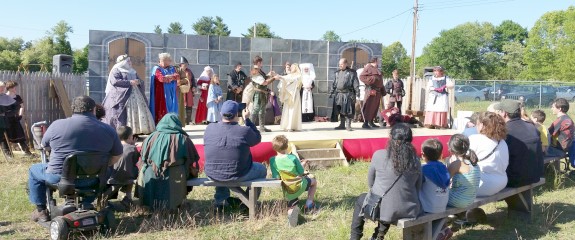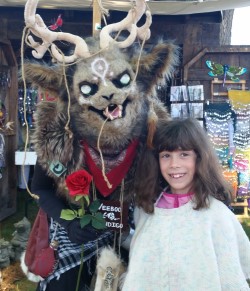 It is nice that the Festival caters to both adults and kids.  In fact, if you wanted to have a libation (otherwise known as an alcoholic drink) there are several places on the Fairgrounds where one could indulge.   
Upon arrival, we were greeted by the Weeboo Windigo.  What is a "Weeboo Windigo" you are asking?  The program described it as "A one of a kind mythical creature of which cannot be judged by appearances alone."  Best description ever!  This creature stole my daughter's heart.  Upon leaving the Fairgrounds, she gave it a big hug!  (And she doesn't do that much.) 
After being greeted by Weeboo, we noticed that there was a QR Riddle game around the Fairgrounds, so we decided to play.  The QR codes were numbered.  Once we scanned the code, a riddle would pop up and we would look for the next QR location.  Don't miss this fun game!  I won't give away the ending, but the only thing I will say is that there is a prize at the end.  There is also a second game called The Bishop's Quest, which was to find all of the missing chalices around the Fairgrounds.  You can get the instructions at the Gift Shop at the Main Entrance.  
Contrary to popular belief, this Renaissance festival was not all about turkey legs (although you could get one if you wanted to).  The selection of food was quite varied and included burgers, hot dogs, but also things that I had never heard of like Scotch eggs (order these early in the day because they were gone at the end), mac and cheese with bacon and pulled pork (yes, really), Shephard's pie as well as other sweet pies, and even chocolate bacon on a stick.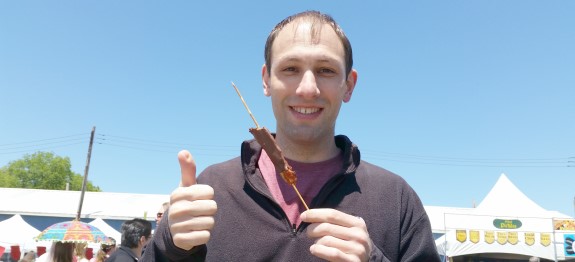 Just like all the other Renaissance Festivals around, there were many adults that played dress up again and wore costumes.  However, have no fear, if you don't want to dress up, you don't have to.  If you want to dress up for a photo, you can do that at the Festival Fotos booth.
Be forewarned about the many craft booths there are.  We walked out with a dagger and shield and a cross bow for the kids (not real, but the cross bow does shoot minimarshmallows). There were booths where real ones could be purchased. There were also a few artisans, like a blacksmith, archery, and even a parade.

If you do attend the Robin Hood Springtime Festival, here is where you can click for tickets.  Ticket prices range from $10 for a 1 day Youth Admission to $72 for a season pass. 

You should check the Robin Hood Springtime Festival web site for all the details, which include some discounts if you like their Facebook page, or follow them on Twitter.  I strongly recommend purchasing tickets before the event because the line can get long at the gate.  We had tickets so it was easy to walk right in.  And by the way, parking was FREE! 
---
© 2015, KidsOutAndAbout.com.
Diana Palmentiero is editor of KidsOutAndAbout.com's Fairfield County, CT site.