Review of Mount Southington: Skiing for the whole family in Plantsville, CT
by Christine Foster
Can close-to-home skiing deliver a great winter experience for Connecticut families?
Real estate agents say it again and again: Location. Location. Location. That is, perhaps, Mount Southington's greatest selling point.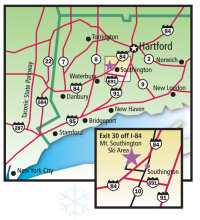 Just off highway 84, nestled in the quaint, old village of Plantsville, this sweet, family-friendly ski area is an even hour drive from Fairfield proper. That makes Mount Southington just about the closest place for those in southwestern Connecticut to carve it up. (Click the map to the right for directions.)
Skiing at Mount Southington is decidedly not the same as skiing in Vermont. The mountain is small –just 14 runs and seven lifts (two of those are dedicated to the ski school). There are runs labeled beginner, intermediate, and advanced, and a terrain park, but consider it to be really a beginner or intermediate mountain. For young families who want to get kids comfortable on skis, it is the perfect starting point. It's also ideal for those who want to make a spur of the moment decision to hit the slopes.
It's been a weird winter all around and the day I took my kids to Mount Southington was no exception. Ski School Director Steven Positano joked that it's been spring skiing all season long. That morning the forecast was a high of 55 and folks at Southington said that could mean temperatures as high as 65 on the sun-soaked slopes. The warmth clearly scared some patrons off, but that was their loss. It was a delightful way to spend a day of winter break.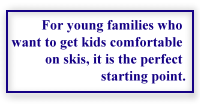 The conditions that day spoke well of the big investment the ski area has made in good snow-making equipment. My daughter said that it was like someone started a painting, but ran out of the white paint. The slopes were appropriately coated, but immediately off to the side were muddy, grassy spots. It's amazing, though, that they can even make skiing a possibility with a winter like this one. Positano says the crews of 10 or 12 are out every night that they can be (generally temps need to be in the mid-20s), making more white stuff. The snow itself was a bit slushy, but skiing in your t-shirt can make up for that minor inconvenience. J
We've taken ski lessons all over the country—from Tahoe to Vermont—and our ski school experience at Mount Southington was at the top of the pack. The process was organized and felt secure. The kids seemed comfortable with the instructors and definitely improved their skills over the course of their time there. The 4-hour lesson with rentals is $105. It doesn't include lunch, which is standard some places, but truthfully, I prefer getting the chance to check in with my kids midday before returning them to their instructors.
In addition to regular skiing, the Mountain has a very active after school and weekend team program, very doable for Connecticut families who love to ski. There is also night skiing, until 10 pm most evenings.
From my perspective as mom, one of the lovely things about this area is the manageable size. I gave up downhill skiing a couple of years back and I am often alone with my three kids, ages 11, 8, and 6. You can practically see the top of the hill from the bottom, so I bit back nervousness and let my oldest take responsibility for the younger two on the lift and coming down. I would sit on picnic benches at the bottom and they were only out of sight for about five minutes. They came soaring down the slopes, so pleased and proud of their independence and, by just after lunch they were coming down Southington's (admittedly modest) black diamond trails all by themselves. I would never feel comfortable making a leap like that at this age on a bigger, more crowded mountain.
I remember when I first saw the lift ticket prices ($53 for an all-day adult pass), I thought it sounded high—as high as the bigger swankier mountains further north. But alas, I think I am just feeling nostalgic for what lift tickets used to cost. Okemo's comparable pass is a whopping $77. That makes Southington look like a steal. There are also cheaper options for shorter periods. Plus, signing up for emails to get special deals, or checking the website for coupons can make it even cheaper. The extra amenities at Mount Southington are basic: a cafeteria with fried stuff, a restaurant and bar with similar fare. All in all, a friendly, manageable skiing experience just a stone's throw from home. Who could ask for more?
---
© 2012, Christine Foster