Top 20 Places to Take Kids in and Around Fairfield County - working document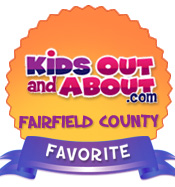 2013 Survey of Connecticut's Best for Kids in Fairfield County, Connecticut
Fairfield County and the surrounding area is rich in fun events and exciting places. It was hard for our readers to select their favorites from the hundreds of choices! The venues listed below are wildly popular with kids and families in our area. But don't miss out on ALL the other wonderful places as well! Browse through our site and discover lots more to do!To stay on top of ALL of the opportunities for kids in our area, please make sure to sign up for our free weekly e-newsletter!
---
Connecticut's Beardsley Zoo creates wonderfully wild experiences for children and families all year 'round. Located on 52 beautiful acres in Bridgeport, the state's only zoo features more than 300 animals representing primarily North and South American species. Explore our South American Rainforest with free-flight aviary, the New England Farmyard, Victorian Greenhouse, and prairie dog exhibit with "pop-up" viewing areas. Visitors may enjoy a bite at the Peacock Café, eat in the Picnic Grove, and take a spin on the colorful indoor carousel.
The nationally recognized aquarium focuses on the fascinating marine life in Long Island Sound and its watershed, including prowling sharks, curious seals, rambunctious river otters, stately sea turtles, pulsing jellyfish and thousands of other animals. The Aquarium also offers: educational programs, including public study cruises out onto the Sound; changing special exhibits; and Connecticut's largest IMAX movie theater, with a screen that's six stories tall! The not-for-profit attraction is the centerpiece of the popular South Norwalk (or "SoNo") neighborhood, with fun shops, nightclubs and restaurants.
At Stepping Stones Museum for Children, the hands-on exhibits and educational programs engage, inspire and delight every child — as well as countless parents and caregivers.
Seasonal fun awaits you at the Stamford Museum & Nature Center. Bring friends and enjoy a picnic on the Meadow, explore more than 80 acres of nature trails, drop in to the Heckscher Farm and say hello to the animals, and don't miss the latest exhibition in the Bendel Mansion Museum Galleries. The Stamford Museum & Nature Center is a place for families. Come discover, learn, and enjoy!
As New England's hands-on aquarium, Mystic Aquarium offers guests a variety of up-close encounters with a wide range

of marine animals, including endangered African penguins and New England's only beluga whales. Dive below the sunlit seas in Titanic – 12,450 Feet Below, the aquarium's newest exhibit full of captivating imagery, breathtaking recreations, emotional soundscapes, hands-on activities and thrilling entertainment that transport you to the moment and inspire your course for exploration and discovery.
A natural history museum at Yale University, it is one of several go-to places for Fairfield County parents who want to give their kids the natural history experience in a friendly environment that is information-packed and fun without being overwhelming.
Pump It Up of Norwalk is the place to host all your events. We offer private team parties, fundraisers, field trips and more.
Connecticut's premiere science museum and planetarium is right in Bridgeport! It is a hands-on interactive museum for all ages with over sixty-five exhibit areas.
New England's Family Theme Park. It is the oldest, continuously-operating amusement park in North America, having its genesis more than 165 years ago in 1846!
Our mission is to conserve Connecticut's environment through science-based education and advocacy focused on the state's bird populations and their habitats.
Located on 149 acres of state-protected land, the Woodcock Nature Preserve includes a pond, wetlands and 3 miles of

publicly accessible woodland trails. The Woodcock Nature Center has been a private, non-profit source of nature and environmental education in Southwestern Connecticut since 1972. The full-time staff of the Center works with the local protected wildlife to serve as a resource for educating the community about our natural surroundings through public outreach, school field trips and visits, on-site birthday parties and our extremely popular summer camps.
We are a pro hockey team in the AHL (American Hockey League) and are affiliated with the New York Islanders of the National Hockey League.
A professional non-profit theatre in Bridgeport that includes a 30-year Cabaret Children's Theatre Season, as well as a well established Cabaret Nights series of concerts.
14.    My Local Library
My local library: Of course, the libraries in Fairfield County are not really ONE place, but MANY places... but it's important to emphasize how valuable libraries are for family learning and fun. The libraries in our area are wonderful about posting their events to the KidsOutAndAbout calendar so you always can get ideas for free things to do with your kids that celebrate education and imagination. KidsOutAndAbout.com takes this opportunity to salute the wonderful children's librarians who serve our community with such dedication.
Family-friendly professional baseball right here in Fairfield County! A member of the Liberty Division of the Atlantic League of Professional Baseball.
Located in Middlebury, CT, this amusement park attracts Fairfield County parents for its exciting and fun-filled attractions for the whole family to enjoy. Lots of wonderful water fun in the summertime!
The mission of Earthplace is to educate the community about nature and the environment. Earthplace maintains a 62-acre wildlife sanctuary with trails, features an interactive natural history museum, houses live wildlife for public viewing, and hosts many public nature programs and events.
The Connecticut Children's Museum building houses three programs, interwoven in purpose and philosophy: Creating Kids Child Care Center, Creating Curriculum Child Care Provider Training Program and the Connecticut Children's Museum itself. Each is inspired by the Theory of Multiple Intelligences, articulated by Harvard psychologist, Howard Gardner. This is a rich and resourceful, cutting edge educational theory, which recognizes the multiplicity of children's intelligences and honors the different ways children learn.
With 150 hands-on exhibits, a state-of-the-art 3D digital theater, four educational labs, plus daily programs and events, there is endless exploration.
A unique family entertainment experience in Shelton with a driving range, mini golf, lazer tag, fun bowl, arcade, batting cages, and the only double-decker ice rink for hockey and public skating. We are a great place for birthday parties!
Winners in Special Categories
---
In the second part of our survey, we asked readers to select their favorites in six categories. Here were their choices.
| | |
| --- | --- |
| Favorite Place to Have Fun INSIDE | A unique family entertainment experience in Shelton with a driving range, mini golf, lazer tag, fun bowl, arcade, batting cages, and the only double-decker ice rink for hockey and public skating. We are a great place for birthday parties! |
| Favorite Place to Have Fun OUTSIDE | Connecticut's Beardsley Zoo creates wonderfully wild experiences for children and families all year 'round. Located on 52 beautiful acres in Bridgeport, the state's only zoo features more than 300 animals representing primarily North and South American species. Explore our South American Rainforest with free-flight aviary, the New England Farmyard, Victorian Greenhouse, and prairie dog exhibit with "pop-up" viewing areas. Visitors may enjoy a bite at the Peacock Café, eat in the Picnic Grove, and take a spin on the colorful indoor carousel. |
| Favorite Kid-Friendly Museum | At Stepping Stones Museum for Children, the hands-on exhibits and educational programs engage, inspire and delight every child — as well as countless parents and caregivers. |
| Favorite Children's Theater | A professional non-profit theatre in Bridgeport that includes a 30-year Cabaret Children's Theatre Season, as well as a well established Cabaret Nights series of concerts. |
| Favorite Farm (agri-entertainment) | Silverman's Farm provides the total farm experience, with an animal park, pick your own apples and peaches starting in August, country farm market, fresh-baked pies, and lots more! A wonderful place to bring your family in late summer and fall! |
| Favorite Nature Center | Our mission is to conserve Connecticut's environment through science-based education and advocacy focused on the state's bird populations and their habitats. |
| Favorite  Sports Team | Family-friendly professional baseball right here in Fairfield County! A member of the Liberty Division of the Atlantic League of Professional Baseball. |