2011 Top 20 Places to Take Kids in and Around Fairfield County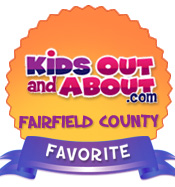 Great Places and Activities for Families in Southwestern Connecticut
Here are current favorites of parents in Fairfield County. Stay tuned for the 2012 survey... we'll see how these get reordered!
1. Stepping Stones Museum for Children - At Stepping Stones Museum for Children, the hands-on exhibits and educational programs engage, inspire and delight every child — as well as countless parents and caregivers.
2. Maritime Aquarium - An entertaining learning environment with marine science, education, and an aquarium devoted to Long Island Sound
3. Sports Center of CT - A unique family entertainment experience with a driving range, mini golf, lazer tag, fun bowl, arcade, batting cages, and the only double-decker ice rink.
4.Beardsley Zoo - Connecticut's only zoo, featuring more than 300 species from North and South America.
5. Discovery Museum and Planetarium - Connecticut's premiere science museum and planetarium: A hands-on interactive museum for all ages with over sixty-five exhibit areas.
6. Earthplace - The Nature Discovery Center - The mission of Earthplace is to educate the community about nature and the environment.
7. Ridgefield Playhouse - A renovated, historic theater for plays, concerts, movies, and community events.
8. Sherwood Island State Park - Hike, bike, ski, swim, fish, study nature, watch birds, fly kites, fly model airplanes, play volleyball, picnic, or just relax.
9. Silvermans Farm - A pick your own apples and peaches farm with farm animals to feed, a farm market, and even a florist.
10. March Farm - Pick your own apples, pumpkins, animal yard, playscape, playground, farm hike, hay rides, corn maze, fall festival, farm store.
11. Stew Leonards - A chain of supermarkets in Connecticut headquartered in Norwalk. Ripley's Believe It or Not! deemed Stew Leonards "The World's Largest Dairy." The New York Times called it the "Disneyland of Dairy Stores" because of its own milk processing plant, costumed characters, scheduled entertainment, petting zoo and animatronics throughout the stores.
12. Ellsworth Hill Orchard & Berry Farm - Pick your own: Apples, Blueberries, Cherries, Figs, Peaches, Pears, Plums, Pumpkins & Gourds, Raspberries, Strawberries, and vegetables. Corn maze in the fall!
13. Scott's Orchard & Nursery - Beautiful apple orchards and pick your own apples! Apple festival, harvest festival. Horse-drawn hayrides begin mid-September.
14. Stamford Center for the Arts - Stamford Center for the Arts (SCA) is dedicated to serving as the region's premiere center for the performing arts.
15. Curtain Call - Fostering artistic expression in lower Fairfield County while entertaining the general public, and providing a nurturing environment for learning.
16. New Canaan Nature Center - A non-profit environmental education center and sanctuary dedicated to helping people of all ages better understand, appreciate, and care for nature.
17. Downtown Cabaret Theatre: A professional non-profit theatre in Bridgeport that includes a 30-year Cabaret Children's Theatre Season, as well as a well established Cabaret Nights series of concerts.
18. Stamford Museum and Nature Center - A museum for the preservation and interpretation of art, the natural and agricultural sciences, and history.
19. Warrup's Farm - A farm for four seasons; maple sugar in spring, flowers and vegetables (some to pick), pumpkins & hayrides as the leaves change, and Christmas trees in snow.
20. Bridgeport Bluefish - Family-friendly professional baseball right here in Fairfield County! A member of the Liberty Division of the Atlantic League of Professional Baseball.